Media Street
Media Street is a new online media information resource, providing extensive information on all media and advertising channels plus details of the wide range of other service providers who provide key services to advertisers. These include details of different media, ad agencies, PR companies, printers, designers, creative consultants etc. Media Street is updated on a rolling basis, meaning that its information and people contact details are updated regularly. Media Street replaces the former MAPS Directory which was an annual hard copy publication published by MAC Communications.
Click here to access Media Street

Advertising Pitch Consultants
Accreditation of Advertising Pitch Consultants
The Institute of Advertising Practitioners in Ireland (IAPI) supported by the Association of Advertisers in Ireland (AAI) have re-launched a guide for prospective advertising clients in how to go about selecting an advertising agency. This is called "Finding the Righ Agency"ection" and it is published in both hard-copy form and on the AAI website as a service to our members in a pdf format. This format is in the Members Login area only (in the "Advertising and Marketing Insights" Page) and can be downloaded by members.
What is a Pitch Consultant?
A Pitch Consultant is a person or company who is not a communications agency, but who presents themselves as having a specialist expertise in understanding communication needs and how to select the most suitable communications advisers that a company or client might need. They would therefore understand what communication agencies offer (advertising, public relations, sponsorship etc) and be able to competently compare and assess how those offerings can best match a potential client's needs.
Accreditation of a Pitch Consultant
As part of the guide, it was noted in it that:
"Anyone can set himself or herself up as a pitch consultant, and to date the category and personnel has been unregulated. If you choose to use a pitch consultant then IAPI along with the AAI would encourage you to use IAPI accredited consultants; to this end both organisations have set up an accreditation process which should benefit both the advertisers and the agencies. Those who are successful will be promoted through the AAI to all clients."
Against this background, IAPI and AAI outlined in their Guide the kind of Accreditation process that they would conduct so as to consider applicants who would wish to be accredited as Pitch Consultants.
Approval of Pitch Consultants
AAI and IAPI have now approved the accreditation of the following consultants, who applied for accreditation, highlighting their specific area of expertise.
Andrew Melsom, Agency Insight, South House Ham, Marlborough, Wiltshire SN8 3RB, UK, Phone:0044 01 488 669 000; Fax: 0044 01 488 668 912 – Creative and Strategic Planning
Brian Sparks, Agency Assessments Ireland, 45 Anglesea Road, Dublin 4, Phone: 00351 01 668 9930; web: www.agencyassessments.com ; e-mail: brians@agencyassessments.com – Creative and Strategic Planning and Media Buying and Planning
Frances Mary Marsh of FLE Marsh - Media, Denshaw House, 120-121 Lr Baggot Street, Dublin 2, Phone: 00353 01 6599 433 – Media Buying and Planning
Una Herlihy and Liam Pender of Open Communications.
www.opencommunications.ie
Contact details are as follows:
Creative Agency Pitch
Una Herlihy Partner Open Communications
Unaherlihy@opencommunications.ie
086 3890036
Media Agency Pitch
Liam Pender Partner Open Communications
Liampender@opencommunications.ie
087 1332906
Claire Cluskey, Empirica
Phone +353 (0)86 6055959 Creative and Strategic Planning, Media Planning and Buying, Digital Services, PR
Email Claire Cluskey claire@empirica.ie
Email Michal Quilty michael@empirica.ie
www.empirica.ie
Paul Duncanson/Tom Holmes of Creative Brief ltd., Carrington House, 126-128 Regent Street, London W1B 5SE, United Kingdom.
t: +44 (0)20 7478 8200 f: +44 (0)20 7437 4523 www.creativebrief.com
Stuart Pocock - Creative and Media, The Observatory International Ltd, Level 17, Heron Tower,110 Bishopsgate, London EC2N 4AY T: +44 (0)20 7571 0415 M: +44 (0)7710 057 174 E: stuartp@observatoryltd.com W: www.observatoryltd.com
Accredited Pitch Consultants' logo
An accredited pitch consultant will feature an approved logo on all their communications – see a copy of the logo below.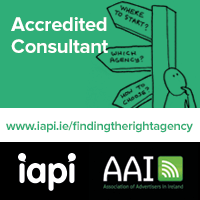 Irish Marketing Journal (IMJ) And Its Sister Publication

IMJ is a leading media publication, published monthly, providing current information about what's happening in the Irish marketing and advertising world. The AAI has worked closely with IMJ through publication of specialist articles etc.
Adworld is published online weekly, and provided updated rolling and breaking news on advertising developments and news.
Both are published by Mountmedia Ltd
Fitzwilliam Institute

The Association of Advertisers in Ireland accredits programmes run by the Fitzwilliam Institute Group as follows:
Some of our recent placement companies include: Christian Louboutin, Amy Buckeridge PR, Fleishman Hillard, Slattery Communications, Hillary Clinton Campaign, MCD, Chambers Ireland, Kennedy PR, Hot Press, RDS, Ovation, Edelman PR, Stephenâ?Ts Green Hibernian Club, Radical, Webresults, Eighty Twenty, Ashville Media, Special Olympics, Harvey Nichols, and Verve Marketing to name a fewâ?¦
If you'd like to schedule a consultation for any of our Postgraduate programmes please call 01 2834579 or email marketing@fitzwilliaminstitutegroup.ie
What do our Postgraduate Diplomas offer:
| | |
| --- | --- |
| | These programmes will give you Direct Access to Industry Experts and an Internationally Recognised Qualification |
| | 500 hours training with some of Dublin's Top Industry Professionals |
| | The skills to create and Pitch your Campaign ideas using Real Life Brands and Briefs |
| | Practical skills training taught by Industry Professionals, along with Presentation Skills modules which will empower you to make winning presentations in your future career. |
| | The opportunity to work with a placement officer on your interpersonal skills, Interview techniques, communication skills and rebranding of your CV |
| | 500 hours work experience in the Industry with over 95% of students remaining in fulltime employment worldwide on completion of their work experience module |
| | In Addition to your Industry Experience you will receive a Qualification which is Industry Accredited and Internationally Recognised |
| | After 6 Months you will have the same level of expertise as someone with two years Experience |
| | Transferable skills which will make you an invaluable asset to any employer around the globe |
| | These programmes run across Ireland, the UK, the USA, Singapore and Australia, allowing you to take full advantage of our global network of Industry Contacts |
What our Students Think:
"The Post Graduate Event Management course I undertook at The Fitzwilliam Institute has not only been very enjoyable and exciting, it has provided me with the perfect platform to branch out into the world of event management.
I received great assistance with sourcing my work placement at the 'Home of GUINNESS'. Over the 12 week period in one of Dublinâ?Ts most exclusive venues, I had the opportunity to plan events for a number of blue chip corporate companies and designed their events from start to finish. I gained invaluable hands on experience working on a wide variety of events.
Both the course and the practical experience gained during my work placement at GUINNESS STOREHOUSE have reinforced my choice of career in event management."
Aoife Martin, Postgraduate Diploma in Event Management
"Fitzwilliam Institute offers great opportunities for anyone interested in a career in Public Relations or Event Management. The P.R course is a great stepping stone which provides top quality training, essential to all areas of the industry. I would highly recommend the Postgraduate Diploma as it is both practical and in-depth. The trainers are experienced professionals who have worked in the P.R industry for years.
Unlike other courses which focus on theory, this diploma allows you to gain invaluable P.R experience. One of the highlights of the course is the arranged work placement. While working, students are given the chance to use all the skills and knowledge they learn in lectures. For anyone who likes writing, working with the media or is looking for a career with endless possibilities, Fitzwilliam Institute is for you."
Ian McGylnn, Postgraduate Diploma in Public Relations
"I applied to the Fitzwilliam Institute to further my marketing and PR skill-set, and gain more of an understanding of how this industry has fared in the online world. I was greatly impressed with both the standard and the commitment of the lecturers, who went above and beyond what we could have expected from them to help us with any queries we had. On the basis of the teaching offered alone, I would thoroughly recommend the Fitzwilliam Institute."
Stephen Moran, Postgraduate in Digital Marketing & Social Media
| | |
| --- | --- |
| 01 283 4579 - Dublin | 021 234 0064 - Cork |
7th October 2013
Diploma in Event Management with Public Relations, Eco-Events and Wedding Planning Modules
Click on the course title above to get ful details of these courses.
Fitzwilliam Institute Group is part of an established group of companies wholly Irish Owned, training over 3,000 people each year in Ireland, UK, Australia, USA, Canada, South Africa, and Singapore. Benefiting from over 25 years experience in the training area.
Fitzwilliam Institute Group's International status presents students with opportunities to network & liaise with industry contacts through our International Training affiliates. The Group maintains a panel of qualified and motivated trainers with practical experience from the industry who work as a team mentoring each student.
If you wish to request a brochure or arrange an interview for one of these courses please contact Rebecca Sutherland on (01) 283 4579 or at www.fitzwilliaminstitutegroup.ie