Toolkit Seminar – Youth Culture Uncovered
---
Toolkit Seminar – Youth Culture Uncovered
To help arm marketers of the 'What now, what next,' when it comes to connecting with youth audiences, Jane McDaid  and Claire Hyland of Thinkhouse will share insights from the agency's recent Youth Culture Report – an annual report developed to ensure that the agency's brands have the edge on youth audiences.  'Youth Culture Uncovered' will help you understand the habits, behaviours, loves, passions, hopes and dreams of today's 16–35year olds.
Thinkhouse is an independent, international agency with a single–minded focus on the youth market. They work with some of the biggest brands in the world and there is simply no other people better placed to help us understand how to credibly connect with younger audiences. 
To Book go to https://youthcultureuncovered.eventbrite.ie
Cost:  €35 (plus booking fee) per person.  AAI Members free.  AAI Members email info@aai.ie to get discount code.
Venue: Thinkhouse, Fumbally Square, Dublin8  D08XR86
 BIOGRAPHIES
JANE MCDAID
Founder & Chief Creative Officer of Thinkhouse – the youth marketing agency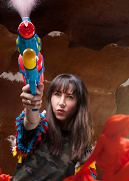 Jane McDaid is the Founder and Chief Creative Officer of THINKHOUSE, the youth marketing agency.  With offices in Ireland and the UK, THINKHOUSE is single-minded, super focused and fully committed to helping brands understand and connect with 18-35 year olds.
In April 2016, THINKHOUSE was listed as one of the "World's Leading Independent Agencies" by Campaign magazine.
In August 2016 McDaid was listed as one of the 'Innovator25,' a Holmes Report list of marketing leaders in EMEA that are 'Reshaping influence and engagement in an era of dramatic marketing and communications disruption.'
Under McDaid's leadership, Thinkhouse has hugely influenced the agency landscape with its fast evolving, insight-led, innovative, social-centric, creative culture. McDaid's unapologetic style, and vision sets her apart from traditional marketers as she embraces an anti-agency stance on many issues such as 'awards,' 'agency structures' and workplace culture.
Thinkhouse has an insights division called The Youth Lab, a Planning and Creative Team, as well as Activation services including; a Content Studio, a Design Studio, Copy-Writing team, a PR team, an Advocacy Team and Events Team. In 2005 Thinkhouse launched 'The Love Network' – it's global Peer-To-Peer management system and global youth network.
With a growing team in Dublin and now, firmly established in London, the agency works with some of the world's biggest brands such as William Grant & Sons (Global), MISSGUIDED (Global); Heineken Ireland (Heineken; Orchard Thieves, Desperados, Coors Light; Tiger); Unilever (Sure, Magnum, Dove; Ben & Jerry's and more); innocent, Bank Of Ireland, Electric Ireland + ESB, and more.
CLAIRE HYLAND
Director of Insights, The Youth Lab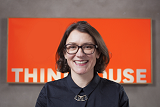 Claire heads up The Youth Lab, Thinkhouse's trends and insights division that helps brands better understand youth audiences – today and tomorrow.
The Youth Lab's obsession with the 'what now, what next?' see's the agency's Youth Lab division lead the charge in developing in-depth youth culture insight and trend reports and strategic planning projects for clients such as Heineken, Unilever, Electric Ireland, ESB and William Grant. The Youth Lab's methodologies are data, social and experience led to best reflect the behaviours, attitudes and feelings of 16-35 year olds.
Before Thinkhouse, Claire held the role of Senior Brand Planner at In The Company of Huskies in Dublin. Previously she was the VP of Digital Brand Strategy at New-York based agency, BOND Strategy & Influence. Working directly with global innovation and strategic marketing teams, she led the charge in driving client understanding of 'the connected consumer' in a social media age via an in-depth understanding of online user behaviour, emerging technologies and culturally relevant trends.
Claire also spent over four years managing the consumer insight program and trends & innovation offering, at design and brand strategy agency Pearlfisher, working in London and New York on pan-European and American projects. As a strategic consultant and New York trendspotter, Claire worked for internationally recognised trends and futures agency, The Future Laboratory, helping brands navigate the American marketplace.
Between 2010-2014, Claire lectured part-time for the Digital Marketing Institute, DIT and Smurfit Business School. She graduated with a first class honours degree in International Business and German from NUI Galway.
Claire is The Youth Lab's first 'Head of Insights' (in Ireland) and, with her team, has helped firmly establish The Youth Lab as one of Thinkhouse's fastest growing divisions.
www.thinkhouse.co.uk  @thinkhouseUK        www.thinkhouse.ie @thinkhouseIE
When?
Tuesday 24th January 2017 at 8:15am – 10:00am