Global DEI Census 2023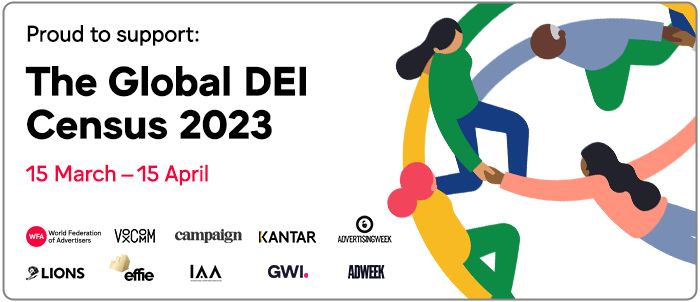 ---
15 minutes to boost diversity, equity and inclusion in marketing 

On March 15, the marketing industry will launch its 2023 Diversity, Equity and Inclusion (DEI) Census. This is a global, independent and 100% anonymous survey investigating people's experience of working in our industry.
AAI are proud to champion this effort and we hope you can give it 15 minutes of your time, so that the census gets the largest, most robust participation possible.

The Census takes place between 15 March and 15 April and the survey can be filled in here. 

Globally, the Census is conducted in collaboration with Adweek, Advertising Week, Campaign, Cannes Lions, Effies, GWI, Kantar, IAA, Voxcomm and WFA. In total, over 100 organisations across brands, agencies, media, tech are rallying behind this initiative.

In 2021, one in seven respondents told us they would consider leaving our industry due to a lack of diversity and inclusion. We are facing an unprecedented talent crisis. Together we hope to identify the problems where action can be taken to make our industry a better place for everyone. 

Hearing your views will be a critical step to making our industry more diverse and inclusive. You can fill out the survey here.