Watch: What next for the online economy with Alan Coleman.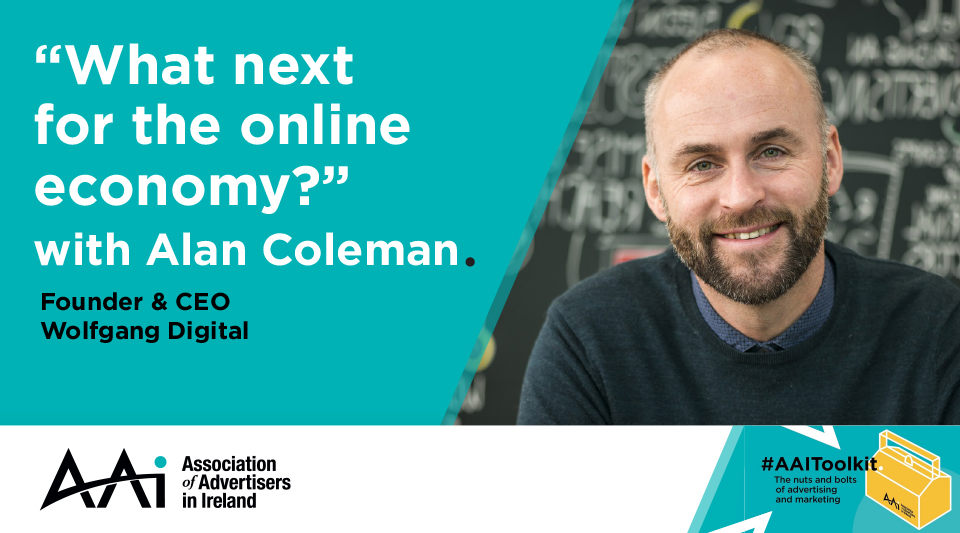 ---
By July e-commerce in Ireland had seen 4 years growth in 4 months. How much of this online spending was temporary and how much will remain?
How have consumer spending patterns evolved throughout the pandemic? How does Ireland's online economy compare to the UK and US?
Alan Coleman of Wolfgang Digital joined Barry Dooley of the AAI to discuss.
About Alan Coleman:
Alan fell in love with search marketing in 2007 while applying for a job in Google. He didn't get the job but was so smitten with the marketing opportunity he taught himself "Google AdWords" and started a freelance business on his kitchen table.
This has gone on to become Wolfgang Digital, a 50 person organisation, who are among Europe's most awarded digital marketing agencies today.
Outside of the digital marketing agency Alan has enjoyed entrepreneurial adventures via Wolfgang's online sex toy shop and is currently working on launching Wolfgang Forestry, a not for profit aimed at addressing climate change via reforesting Ireland's native woodlands.
Alan enjoys hopping on every fad going: morning pages, mushroom tea, Wim Hoff breathing and fecal microbiota transplants are the flavour of 2020.