Webinar: Sign of the Times 2021 – Luke Reaper, Behaviour & Attitudes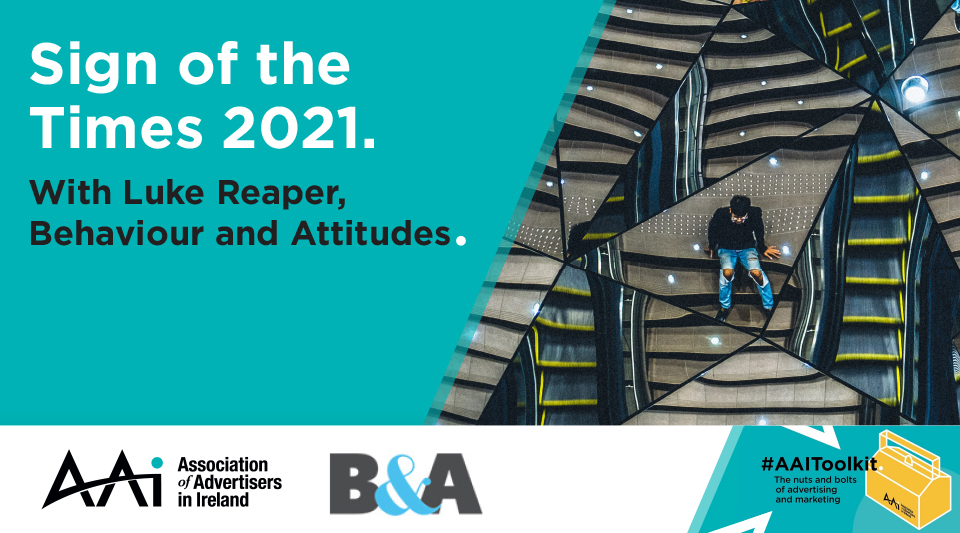 ---
We were delighted to welcome Luke Reaper from Behaviour & Attitudes to address our Toolkit event on Tuesday May 25th 2021.
Luke reviewed the findings from the "Sign of the Times" survey which was recently published in the Irish Times Weekend Review, with some updates recently undertaken in May.
This edition is a wide-ranging survey of life in Ireland today. It deals with the impact of Covid, but more importantly the current Zeitgeist as we emerge back into the 'wild', and our thoughts on future behaviours.
Luke Reaper
Luke is the managing director and a shareholder of Behaviour & Attitudes, one of Irelands leading research and insight agencies. He has more than 25 years' experience in the Irish market. Prior to joining B&A he was Board Director of TNS MRBI in Ireland, and also previously worked for Lansdowne Market Research. In keeping with his love of human psychology, being a Psychology graduate of UCD with a Masters in Social and Organisational Psychology, he is a member of the Psychological Society of Ireland (PSI). Luke is also a member of The Marketing Society of Ireland and is an nine-time winner in the Annual Excellence in Research Awards. He is also a member of the MRS in the UK, the MII and is the current Chair of AIMRO (Association of Irish Market Research Organisations).