Council, Management Committee & Staff
Council
Louise Bannon
DAA
Catherine Bent
Mars/LR Suntory
Sarah Connolly
Irish Distillers Pernod Richard
Fiona Curtin
Heineken
Eoin Doyle
Glanbia
Jennifer Heaphy/Ciara Cashan
Coca Cola
Shane Kelly
Diageo
Kirsten Lyons
Ulster Bank
Bridget O'Donoghue
AIB
Camille O'Flanagan
Barry's Tea
Aidan Power
KBC Bank
Michelle Russell
AXA
Suzanne Weldon
BWG
Tanya Waldron
Britvic
Management Committee
Aidan Power, KBC Bank
(President)
Eoin Doyle, Glanbia
(Vice President)
Catherine Bent, Mars Ireland
(Secretary)
Staff
Barry Dooley
(Chief Executive)
Su Duff
(Head of Business Development)
Siobhan Bloomer
(Office Manager)
What AAI Does
Represents and defends the legitimate and non-competitive interests of responsible advertisers and marketers in dealing with Government, the media, business and consumer groups, as well as other bodies.
Encourages high standards and promotes self-regulation in all communication channels, and works to develop positive Codes of Practice.
Liaises with Government Departments and other key audiences on the role, benefits and importance of commercial communications in modern societies.
Through the World Federation of Advertisers we ensure that Irish advertisers have an input to relevant legislation at a European level.
Provides advice, assistance and support services to our Members in respect of advertising trends and issues.
Works with other Organisations and Associations in addressing issues of general concern in the area of advertising and marketing communications.
Is involved in the organisations commissioning and operating joint industry research programmes for virtually all media.
Provides forums for advertisers to meet and exchange ideas.
Works closely with a range of specialist organisations monitoring readership and listenership. These organgistations include the Audit Bureau of Circulation, the Joint National Readership Survey, the Joint National Listenership Survey (radio and TV), the Joint National Outdoor Research Survey.
Who Are The AAI?
The AAI is:
The only organisation solely focused on representing and furthering the interests of advertisers in Ireland.
The authoritative voice of industry on issues of concern to advertisers, both at a national and EU level.
AAI represents its Members not only on advertising issues, but also on all forms of commercial communications.
Representative of Ireland's diverse industry sectors, both manufacturing and service. Membership of AAI is Corporate.
A driving force in the establishment and maintenance of self-regulation in Ireland. Effective self-regulation is the credible alternative to legislative control of advertising and marketing.
AAI also represents advertisers on the board of the Advertising Standards Authority of Ireland as well as being actively involved with a wide range of other regulatory bodies and interest groups such as the Broadcasting Authority of Ireland, The Alcohol Marketing Communications Monitoring Body, The Department of Health and Children and many others.
AAI is a member of the World Federation of Advertisers (www.wfanet.org)
AAI Structure
Membership of AAI is corporate, with each member company nominating one or two individuals to represent them within AAI.
The organisation is governed by a Council consisting of not less than 15 and not more than 21 elected member company representatives. Council meets on a quarterly basis.
Day to day running of the organisation is the responsibility of the Management Committee. This consists of five individuals - the President, Vice President, Secretary, Treasurer and Chief Executive. The Chief Executive and Administrative staff are the only AAI employees.
AAI operates mainly through a number of working groups who are established to focus on particular issues or areas of interest, e.g. advertising to children, alcohol advertising, sponsorship, media, seminars/educational issues etc. The organisation is funded by membership subscriptions. Member companies pay an annual subscription which is based on their marketing expenditure in the preceding year.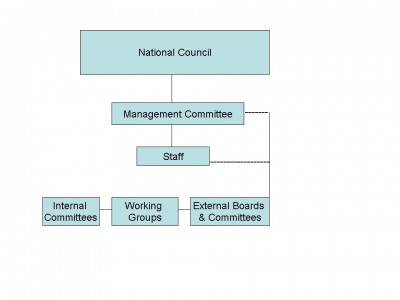 Codes of Governance
Legislative Codes
These are codes that are based on Legislation and have been formally devised by Government Departments and Government Regulators, after consultation with interest groups. These are distinct from industry's own self-regulatory codes but often are based on industry's initiatives in which AAI has been to the forefront in developing.
It is widely recognised, especially at EU level, that a policy of co-operation between Government, Industry and other interested parties, provides for the most effective regulation. Self-regulation has provided a generally effective and speedy way of managing advertising regulation. Advertisers and advertising media have been able to quickly address issues as they arise. This response is well encapsulated in the work of the Advertising Standards Authority of Ireland (ASAI), well recognised as a leading self-regulatory authority.
BAI Children's Commercial Communications Code - Effective from May 2011 Click here
Guidance Notes for BAI Children's Commercial Communications Code Click Here
BAI General Commercial Communications Code - Effective from May 2011 Click here
Guidance Notes BAI General Commercial Communications Code Click here
BAI Product Placement Code - Effective from 9th March 2011 - for Summary of Code Click here
Self Regulatory
Self-regulatory codes are codes developed generally by industry, based on a recognition of the need to introduce different forms of regulating advertising practice in different industry sectors. These may relate to broad principles, target audiences, content of messages, claims being made etc. Fundamental to them all however, is the recognition by advertising practicioners that they must comply with the core principal set by the Advertising Standards Authority of Ireland (ASAI) - that advertising must be legal, decent, honest and truthful.
The ASAI was established by the advertising industry and is funded by major advertisers, in recognition by them of the need for socially responsible commercial advertising. AAI is represented on the board of ASAI.
Self- and co-regulation codes of practice are recognised by leading officials in the EU as the best way of ensuring effective advertising management.
Self-regulation is managed under a range of codes.
International Chamber of Commerce (ICC) Code on Advertising Practice - September 2011 Click Here See our Links Section for the ICC Code Centre link
EASA Best Practice Recommendation for OnLine Advertising - April 2011 Click Here
ASAI Background to Self-Regualtion - Oct 2008 Click here
ASAI Code of Standards for Advertising Promotional and Direct Marketing in Ireland Click here
Alcohol Marketing, Communications and Sponsorship Codes of Practice July 2008 Implementation of this code is managed through Central Copy Clearance Ireland Ltd. (CCCI) which provides a pre-vetting service of advertising material for alcohol products
Glossaries for Toolkit Publication